Ireland Then and Now
Zoom in on Ireland's rich history as it is relived in images of Cork, past and present.
We came across these images of historic Cork and were captivated by the stories they tell and by how much they reveal about life in Ireland over the past 150 years. While much has changed in that time, a surprising amount has remained the same. Intrigued and inspired, we headed out to take our own photos, capturing what these same Irish scenes look like today. Fashion and architecture, modes of transport and advertising, all have changed drastically over the past century and a half. But perhaps most fascinating are the details which have not changed; the buildings, businesses and landmarks which Corkonians walk past every day, and the little human touches which make Ireland what it was then and what it is now.
Ireland Then and Now is a living history of Ireland, presented by My Ireland Tour. The historical images used have no known copyright and are used with thanks and due credit to the Irish National Archive and their online community. Modern day images of Cork are copyright My Ireland Tour 2016.
Hover over an image to use the magnifier tool
Patrick Street, Cork (1902)
A busy shopping district for generations, Patrick Street has long been the beating heart of Cork - so where better to begin our journey through Cork, then and now? Here, in 1902, Cork's iconic trams dominate a broad street, well-trodden by the many horses and carriages which make their disorderly way toward St Patrick's Hill in the distance, beyond the River Lee. Union flags, flying on both sides of the street, remind us that - a century after they were passed - the 1800 Acts of Union remain unrepealed and that, at this time, Cork was a city of the United Kingdom of Great Britain and Ireland.
But, as with each of the images which follow, old and new, it is the people and their individual stories which bring the picture to life. In the foreground, a lady dashes across the busy street, narrowly missed by the advancing horse and carriage. Who is she, and where can she be going in such a hurry? Zoom in and have a look for yourself.
Patrick Street, Cork (1937)
▼ Click here to reveal what Patrick Street looks like now ▼
The same street, thirty-five years later, and the Union flags have given way to the Irish tricolour. Taken in 1937, this image reveals little of the economic turmoil which had blighted Ireland and the rest of the world for the previous decade. Depicting well-heeled shoppers with their motor cars, and visitors arriving at the Savoy Hotel and Restaurant, this is a Cork full of confidence. The distinctive conical rooftop (right-hand side) of what is today Debenhams department store ties the image in with the Patrick Street of today both visually and thematically: Patrick Street remains a busy and bustling shopping district.
City Hall, Cork (1883)
▼ Click to reveal what City Hall looks like now ▼
Taken at the time of the Cork Exhibition (1883), this image shows a bustling civic centre, full of life. Posters on the right-hand side advertise performances from Matthew's Minstrels and a Spring Show in the Corn Exchange. Just around the corner, beyond the archway, a small boy seems to be playing fiddle. Or is there some other explanation for the close scrutiny of his chaperone?
Grand Parade, Cork (ca. 1948)
▼ Click here to reveal what the Grand Parade looks like now ▼
Are we being watched? (By a gentleman in the foreground, seated on a bench.) It is 1948, and the Twentieth Century is in full swing, heralded by the arrival of the motor car. There are dozens of them in view, including several delivery vans. Cyclists can still be seen on the right-hand side of the picture, as can one horse and cart. Painted advertisements tell us of O'Shea's Bread (foreground, left), McCarthy's Bread (background), Seán Jennings Ltd. with its furnishings, laundry room and dried bedding (middle distance, left) and - of course - Murphy's Stout (background). Towering over it all, then and now, the National Monument, unveiled on St Patrick's Day in 1906. Eagle-eye Corkonians will note the absence of Bishop Lucey Park which, though known to many locals as the centre of Cork City, did not exist until 1985. Space for its main gateway onto the Grand Parade was made available after the Jennings building (pictured) burnt down in 1970.
Queen's College, Cork (ca. 1900, now University College Cork)
▼ Click here to reveal what the University looks like now ▼
Taken 55 years after the opening of Queen's College, this image shows what is now known as the Main Quadrangle of University College Cork. Here, over a century ago, the land was less decorative and more horticultural. Plants are neatly ordered and labelled, and a beehive can be seen in the middle distance. A worker is tending to a bed: if you look carefully - yes, he's watching you, too!
Ship St and Lower Glanmire Road, Cork (ca. 1962)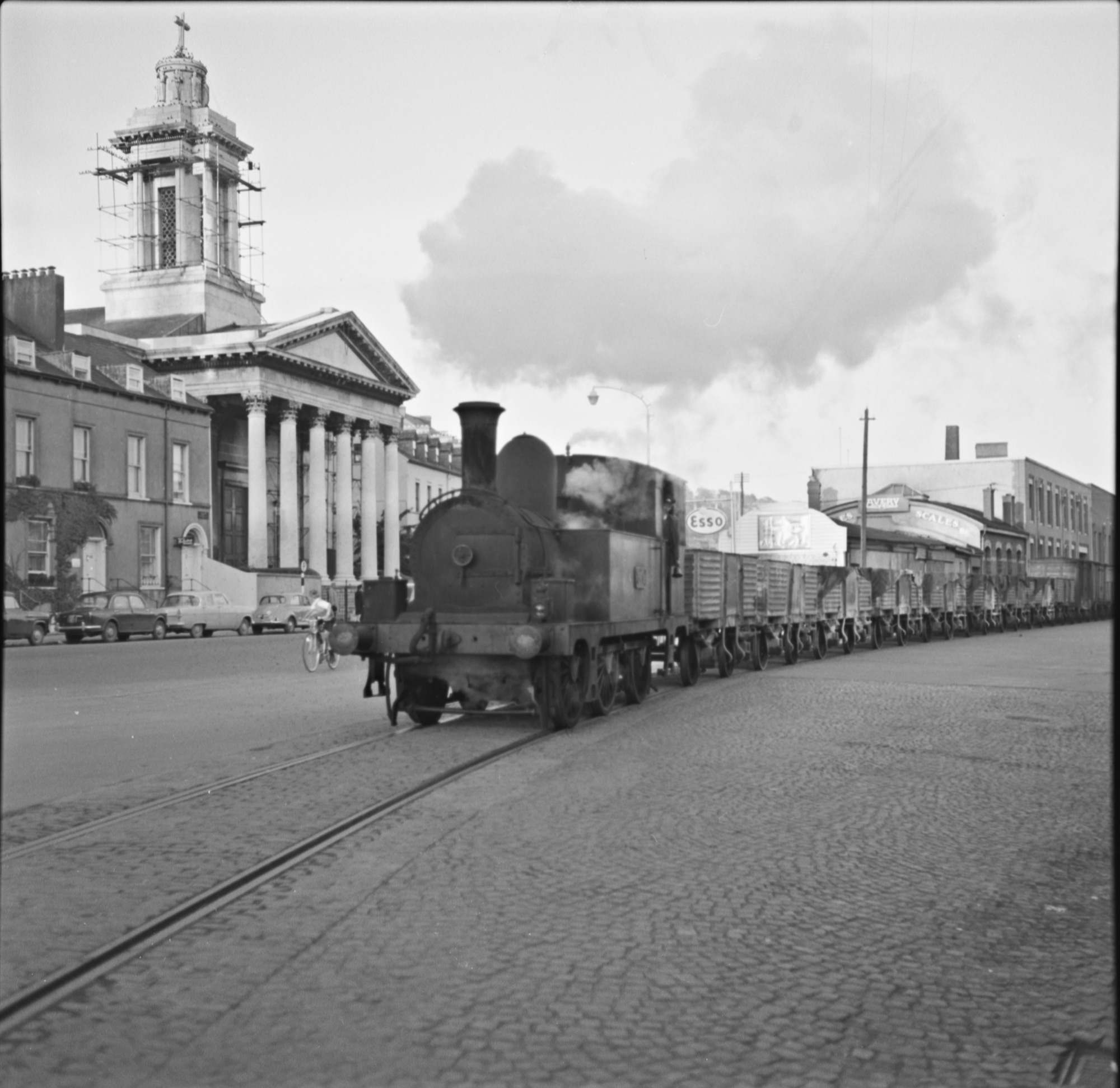 ▼ Click to reveal what Lower Glanmire Road looks like now ▼
In an age before health and safety regulations, the driver of this locomotive casually hangs out of his train, holding a bell as he passes a boy on a bicycle. Looking over his right shoulder, the boy seems transfixed by the couple standing beneath the steps of St Patrick's Church. Or perhaps he is looking at that most emblematic of 1960s icons, the VW Beetle? The cross-city railway ran along this stretch of road until the mid-1970s. Even more enduring, the Esso garage in the background would remain until the early 2000s, when it finally gave way to what is now Unity House.