24 Hours in Ireland's Capital
Ireland's capital city, a whole world of things to see and do, but what if you only had one day to see it - what would you pick? I was set that conundrum by some of my family coming to Dublin who had one day only to see this great city, so I had to pick just a few favourites to show off the best Dublin has to offer. There's a huge variety of things to see and do, and below is my account of what we decided to do in our action-packed one-day tour of Dublin.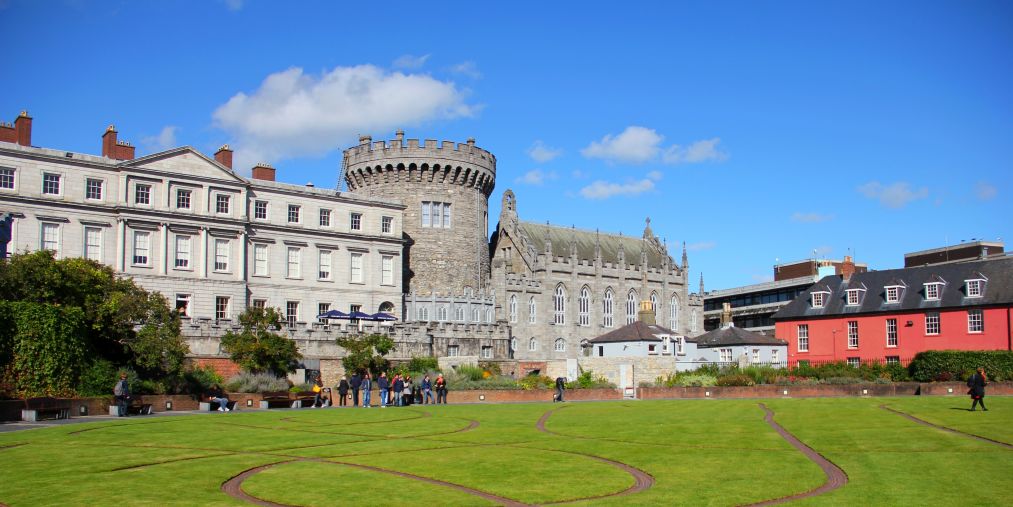 Dublin on Foot
We started off by exploring a bit of the centre on foot - a wander down O'Connell street, passing the Millennium Spire and the General Post office, a nice mix of older history and new history together. O'Connell street is a good place to start as a central point in Dublin to get your bearings, along with having some very important historical locations. The weather was with us so we could enjoy exploring in the sunshine before crossing over the river Liffey and towards our first destination - Trinity College.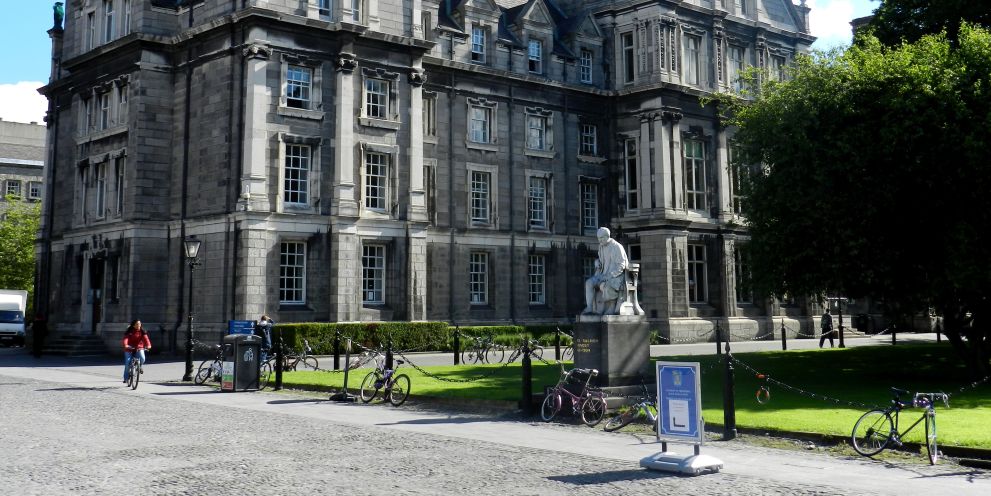 Trinity College & The Book of Kells
Trinity college is Ireland's most prestigious University and is located in the heart of the city centre just south of the river Liffey. We started with a wander around the charming campus, very enjoyable on a sunny day. Dating from 1592, Trinity College has a interesting mix of old and new buildings.
The Book of Kells has its own exhibition and is one of the main tourist attractions. This gospel manuscript is highly illuminated - stunning artwork and colours decorate the text of this 9th Century book, and the vibrancy and condition is incredible considering it's over 1200 years old. We couldn't take any pictures to show you ourselves, but there is an Online copy of the Book of Kells here, it's well worth a look.
Also part of the same exhibition is a visit to the Long room of the Old Library. You really feel like it's the year 1800 stepping into this perfectly preserves university Library from a by-gone era. My pictures do not do it justice - it's something to see in really life. They hold exhibitions in there (I saw the Brian Boru exhibition myself, hailed as the first King of all Ireland), though do peer behind to all the old bookshelves, that was our favourite part.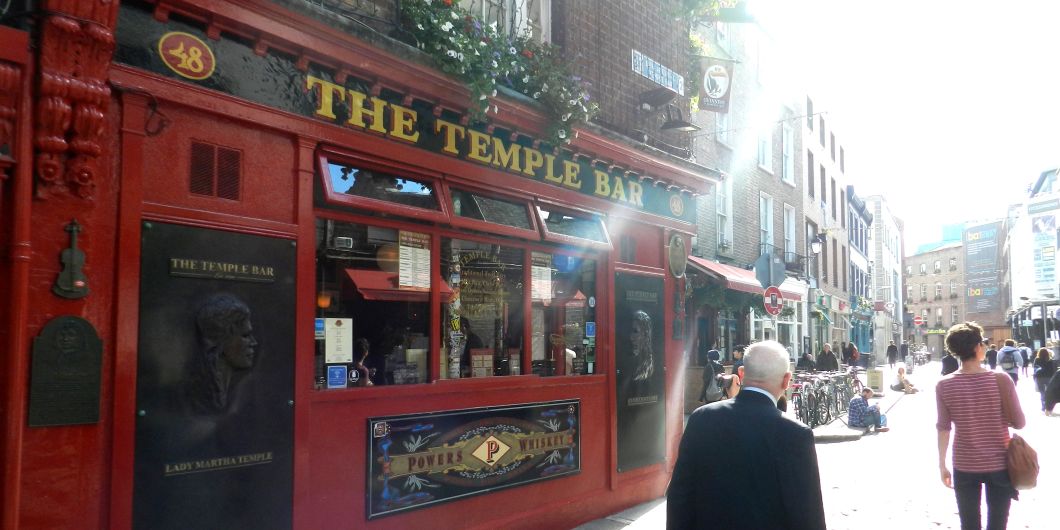 Temple Bar
Next we took a wander through Temple Bar, Dublin's social centre. Just to clear up any confusion first - there is a bar called Temple Bar, but it's also the name of the road & is generally used as the name of the social district of Dublin.
Here you'll find all sorts of bars, cafés and restaurants in a lively section of the city. It changes mood though as the day goes by. We were first here late morning. It was quiet and relaxed, so we decide to grab a coffee and watch the world wander past. We stopped at The Joy of Cha Tea Shop and I can highly recommend their scones, delicious!
Later on in the afternoon we passed Temple Bar again and it was busy and bustling - the buskers were plying their trade and people were enjoying the sunshine, a very different feel and still very enjoyable. Later on in the evening the area will be very different again; filled with revelers here for a night out and to enjoy the famous "craic".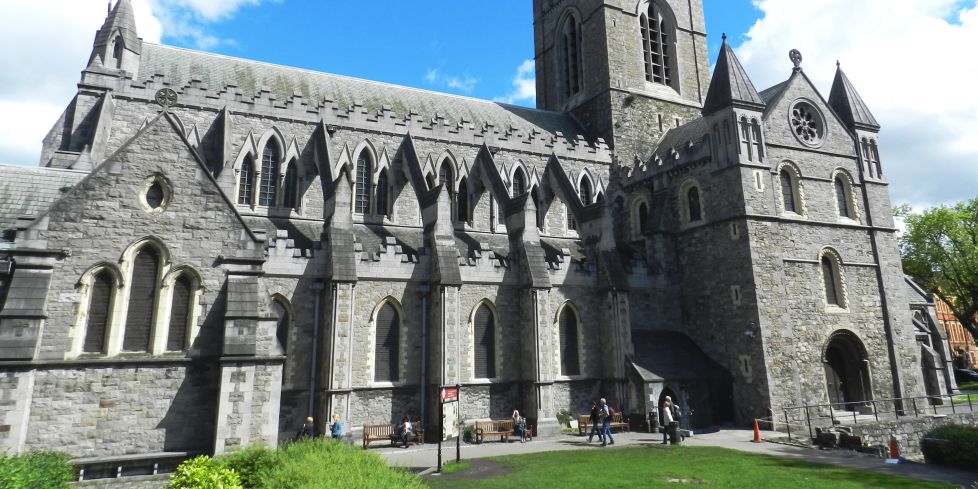 Christ Church Cathedral
Next on our tour of Dublin was Christ Church Cathedral (or The Cathedral of the Holy Trinity, to give its proper name). The original Cathedral was found at 1030 by Sitriuc, the King of Viking Dublin. It is a stunning building, both inside and out. It's worth spending some time to admire the outside, the stone work is quite something. Once inside you can visit the crypt below the cathedral floor too.

The Guinness Storehouse
A favourite among tourists from all over the world, I felt no trip to Dublin would be complete without a tour of the Guinness Storehouse st St James's Gate. Spread over seven floors, It is very interesting for beer drinkers and non-beer drinkers alike. I've done a lot of brewery tours over the years and this has to be one of the best.
Yes there's all the ingredients, the brewing, the tasting and alike which might appeal more to those who would enjoy drinking Guinness. It also takes you through the history of Guinness from many different perspectives - there's the original 9000 yr lease for St James's Gate signed by Arthur Guinness himself, stand-off he had with Dublin City Council over water rights, there's the history of transport from a Guinness perspective and the history of their world-famous advertising. I'd recommend seeing the section on how the coopers made the original wooden barrels - somehow they could turn oak planks into a watertight barrel with only one measuring tool.
On the top floor is the Gravity bar, with glass walls and a 360 degree view over Dublin, which has to be one of the best views from anywhere in the city centre. It makes a wonderful end to the tour - sitting here chatting with travellers from all over the world looking at the incredible views over Dublin.